Late last month, the Ordinals protocol was forked into Litecoin (LTC,) the second cryptocurrency network, with just a modest monetary reward and some technical skill, according to the developer.
Anthony Guerrera, an Australian software developer, released a repository on GitHub on February 18 that forked the Bitcoin Ordinals to Litecoin. This created support for NFT-like assets on Litecoin as it did on Bitcoin. Guerrera claimed in an interview that a five LTC bounty set by the fictitious Twitter user Indigo Nakamoto in early February that increased to 22 LTC motivated him to create a Litecoin Ordinal fork.
22 $LTC to port Ordinals to #Litecoin from:
+ 5 $LTC @indigo_nakamoto
+ 5 $LTC @ryanwrights
+ 5 $LTC @MASTERBTCLTC
+ 2 $LTC @ChiefLitecoin
+ 5 $LTC @finitemaz https://t.co/7X4JfMzq97

— Indigo | Nakamotoist (@indigo_nakamoto) February 16, 2023
Guerrera admitted that he was "in a bit of a mad rush to try and get it done as fast as I could." However, it appears his innovation has unlocked new potential for Litecoin. Litecoin Ordinals are a new experimental approach to representing data on the Litecoin network. This makes room for a unique type of NFT technology.
Litecoin Ordinals Bring Change
The Bitcoin blockchain saw a huge boost due to the launch of Ordinal inscriptions and minting content aside from transactions. According to Dune analytics, over 200,000 inscriptions have been created so far using Ordinal inscriptions.
The first #Litecoin #Ordinal has been inscribed on the Litecoin blockchain.

The mimblewimble whitepaper will live within Litecoin forever Ⓜ️🕸 #MWEB!$LTC $BTC #NFT @SatoshiLite @finitemaz @ryanwrights @MASTERBTCLTC @ChiefLitecoin @indigo_nakamoto pic.twitter.com/ICLkTMjwRW

— Crypto Anthony (@anthonyonchain) February 19, 2023
The Bitcoin-based version enables data, including images and videos, to be inscribed on satoshis, essentially introducing NFTs to a network that was once regularly ridiculed for lacking them.
Bitcoin saw a huge change as a result of the Taproot upgrade in November 2021, which increased anonymity and smart contract functionality while unintentionally introducing Ordinals. Interestingly, Litecoin features soft forks of Bitcoin's Taproot and SegWit, which are necessary for Ordinals to function.
Ordinals work differently from NFTs on other networks. They embed the picture data for NFTs directly into the blockchain, consuming a significant amount of block space. However, the presence of MimbleWimblel on Litecoin allows Ordinals to handle more data at a lower transaction cost than Bitcoin.
How Will Ordinals Change Litecoin?
Ordinals will bring untold scalability and development to the Litecoin network. The popularity and success of a blockchain network are greatly influenced by its scalability and efficiency. So, concepts like Litecoin Ordinals are important because they enable more people to access and use blockchain technology.
While Ordinals are still in their early stages, they are bound to have different consequences for Bitcoin and Litecoin. For example, it takes 2.5 minutes to create a block in Litecoin. Bitcoin, on the other hand, takes up to 10 minutes. Also, the average transaction fee for Litecoin is several times lower. So, there's bound to be increased demand for the Litecoin network for practical applications such as Ordinal minting. We might be seeing new artists embrace Litecoin in the coming months.
The average Litecoin block size increased five-fold following the arrival of Ordinals. This showed that users were actively minting digital assets. But that's not all. The introduction of Ordinals could also act as a stimulus for the growth of LTC (Litecoin's native token) in 2023. This comes along with the projected mid-year halving, which would see blockchain mining fees reduced from 12.5 LTC to 6.25 LTC.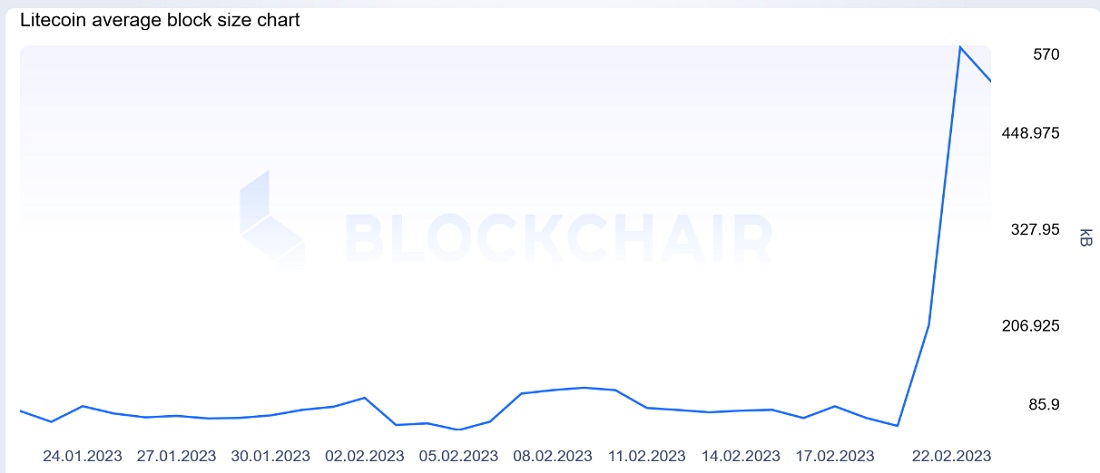 The number of LTC-based Ordinals has significantly increased since Guerrera announced his innovation. There have been more than 60,000 inscriptions on the Litecoin blockchain. Some excited users are posting their newly built LTC-based collections and Litecoin Ordinal inscriptions on social media. As expected, the number of inscriptions on Bitcoin is miles ahead of that of Litecoin. But there's huge potential for growth for both.
There are now over 60,000 ordinals inscriptions on Litecoin.

Do you love that it shows how many people value / build on LTC? It's open source innovative genius!

Or hate the unnecessary bloat they're adding to the Litecoin blockchain? LTC should be for payments!

— Litecoin Foundation ⚡️ (@LTCFoundation) March 1, 2023
It will be fascinating to see if digital collectibles made on Bitcoin or Litecoin will penetrate the NFT market, currently dominated by networks like Ethereum.
⬆️ For more cryptocurrency news, check out the Altcoin Buzz YouTube channel.
⬆️ Check out our most up-to-date research, NFT and Metaverse buy, and how to protect your portfolio in this market by checking out our Altcoin Buzz Access group, which for a limited time, is FREE. Try it today.