Predicting Bitcoin price is an entertaining activity. Michael Novogratz has tried it. So have John McAfee and Tom Lee. But what if fear and greed can also help determine its price movements?
A couple of analysts actually begged the question. And decided to analyze two types of indexes–fear and greed, which show whether the market expects growth or decline. They then compared the expectations of the crypto community to the Bitcoin price change over the past six months.
Below is a translation of the research.
"We checked whether market expectations coincide with the movement of Bitcoin. And whether it is possible to predict the price. In this article, the leading experts of the cryptocurrency market took the data of fear and greed indexes for the last six months and visualized it.T hey then compared it with the mother-of-all-crypto price changes for the same period (5th of June, 28th of July and 24th of October).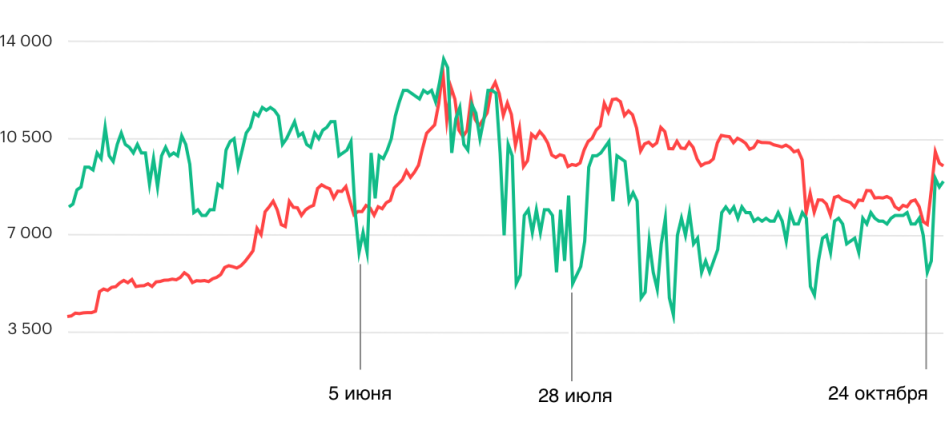 Consider the graph above. The red curve indicates Bitcoin's price. Concurrently, the green one is an index of fear and greed. The higher the green curve rises, the higher the greed. Conversely, the lower the green curve, the more fearful the market is.
Several observations can be made:
Observation 1

. Now the greed index, which shows the tendency of the market to buy, is much lower than it was between January to June 2019, during the growth of Bitcoin price from $ 3,000 to $ 14,000;

Observation 2

. At the end of June this year, greed reached a peak, while Bitcoin set an annual maximum. After the cryptocurrency began to fall from $14,000, the average index shifted into a zone of fear. Since then, even a slight decrease in Bitcoin price, made the index 

drop deeper to the lower border. This suggests that the community was afraid of a recession. Hence any sharp movements were accompanied by massive sales;

Observation 3

. Bitcoin has repeatedly deceived the market. On June 5 and July 28, Bitcoin reacted to the panic of the community with a sharp increase. A similar thing happened on October 24th. BTC's rate grew by 30% during the day.
Concluding, the results were controversial. On the one hand, market expectations follow the movement of the Bitcoin price. The higher it is, the more greed makes people buy the cryptocurrency. And when a trader or investor acquires an asset, it contributes to the growth of its price.
Contrariwise, the strongest expectations of the community generate results that are opposite to the expected. Thus, Bitcoin is moving against market sentiment."
The research comes at a time when Bitcoin is trading above the $9,000 mark. However, some believe it will plunge soon again.